As the noted football pundit Sir Elton John so sagely pointed out, it's the circle of life. It's the wheel of fortune. He was probably drawing on the philosophy of Boethius, whom I believe was a classmate of Sir Tim Rice's at Lancing College.
It's my belief that history is a wheel. "Inconstancy is my very essence," says the wheel. "Rise up on my spokes if you like but don't complain when you're cast back down into the depths. Good time pass away, but then so do the bad. Mutability is our tragedy, but it's also our hope. The worst of time, like the best, are always passing away."

Boethius (480-524) – The Consolation of Philosophy
So yeah, there's always that.
Spain will, no doubt, one day return to the very pinnacle of the world game. Whether or not Iniesta, Xavi et al will still be in the team when they do is another matter. It's probably safe to say that Iker Casillas won't. It's a time for sadness and tears, but also a time for celebration of one of the greatest international football teams ever assembled.
Our idiot artist Dotmund has never even heard of Boethius and as such chose to focus his attentions on the former rather than the latter.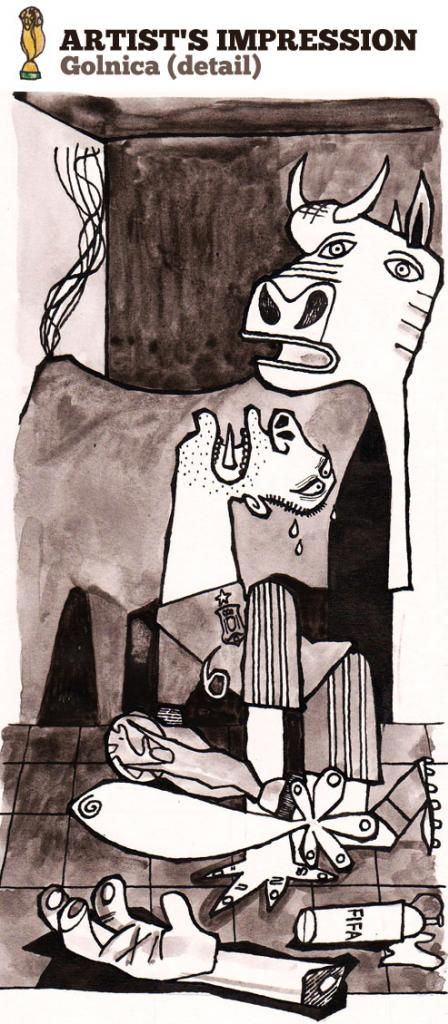 You can follow Twohundredpercent on Twitter here.
You can follow Dotmund on Twitter here. (It will only encourage him, though)