Goalkeepers win, and lose, football matches. There's no other position quite like it and one of the key reasons that goalkeepers are a different breed from the rest of us. Taller, if nothing else. And with big hands. Big meaty hands. Hairy old meat.
This old truism was proven once again last night. Mexico's multiple-fingered custodian Guillermo Ochoa had a magnificent game against the host nation, winning a deserved draw for the Central American team. A result against Croatia now seems likely to put his side into the knockout phase.
However, Igor Akinfeev of Russia had an absolute stinker. Several times the CSKA Moscow goalkeeper fumbled the ball, but when the worst finally happened it was difficult to see how it could have been worse. It's not the first time that Russia's coach, Fabio Capello, has encountered this at a World Cup: his previous attempt as a manager with England also saw his side draw their first match 1-1, that time as a result of a goalkeeping display from Robert Green so shambolic that David James appeared between the sticks for the second game.
Whether or not the same fate will befall Akinfeev is yet to be seen, although there's every chance that when he returns home from this World Cup he'll find that he has had his gas cut off.
Our resident artist and semi-trained chimpanzee Dotmund has charted the ebb and flow of the goalkeeper's lot.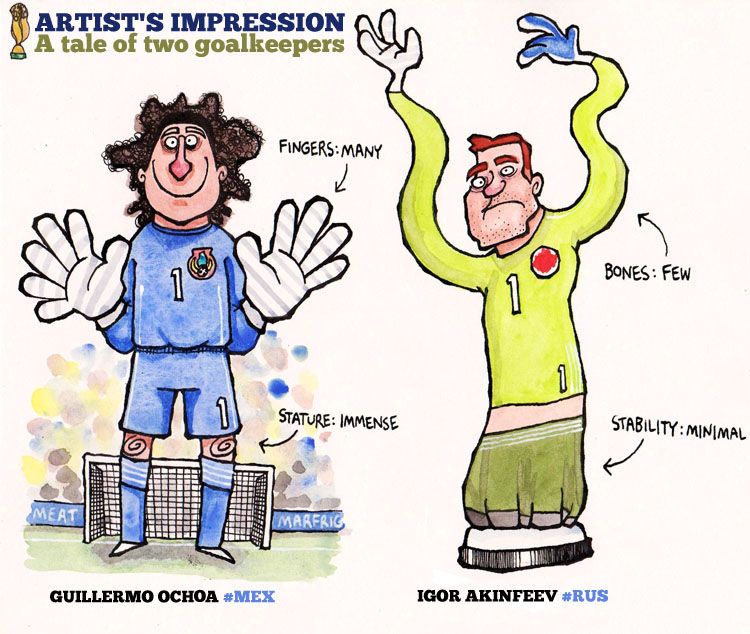 You can follow Dotmund on Twitter by clicking here.
You can follow Twohundredpercent on Twitter by clicking here.