For people who come from other parts of the country, particularly in the Football League-saturated midlands and north-west of England, it might be hard to grasp the peculiar mentality which comes of supporting Brighton and Hove Albion. Their geographical catchment area is the envy of almost any of their rivals you could care to mention, having been the sole League representative for the county of Sussex for over 90 years.
This is not to say that football isn't a big deal in East and West Sussex. Clubs like Lewes and Eastbourne Borough have been flirting with the fifth tier of the pyramid in recent years, whilst Worthing and Whitehawk both represent the county at regional league level. Beyond that is a well-stocked County League. Such is the Albion's position, however, they are able to undertake an annual pre-season cruise of their pick of these clubs, encountering little or no enmity along the way. If anything, it's as much a time-saver as anything else. Nobody has to ask the standard Sussex football clubhouse half-time question, "how are the Albion doing?".
With scarcely anything bar goodwill coming from their geographical rivals, Brighton have had to look further afield for anything approaching a traditional derby experience. The traditional bogeymen for the club are Crystal Palace and Portsmouth – Palace being the rival who are perhaps the more widely-acknowledged but by no means universally seen by supporters as the single root of all evil – whilst continued proximity in the same league circles (and a variety of… tasty… encounters) has also led to a lesser rivalry with Leyton Orient in the past decade or so.
This could be about to change. If Crawley Town manage to win promotion from the Conference , it will be a historical moment. A second Football League team for Sussex, and a first for West Sussex, the county in which I live. But I won't be celebrating. Nor do I think that any Brighton supporters should or will be. Even the traditional relationship between Albion and their neighbours – the kindly, slightly patronising, avuncular uncle – won't cut it any more.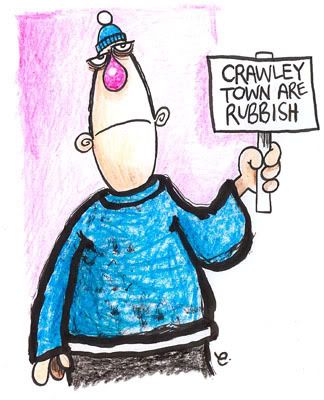 There are two killer ironies arising from this state of affairs. The first is that, far from being the noble patricians of Sussex's football scene, Brighton and Hove Albion are in fact its upstarts. Of the county's (ahem) heavyweights, Lewes hold the honour of seniority, having been founded in 1885. Their bitter rivals Worthing followed a year later. Even Crawley Town, smelly old Crawley Town, have been around for a full five years longer than Brighton and Hove Albion, who only came into being in 1901. Crawley even pre-date the foundation of Crawley AS a town by a full half-century.
The second, and more devastating, irony is that I should be pleased. I should be pleased that Brighton could finally have itself a full-on, fully professional, fully-LOCAL footballing rival. No more travelling 60 miles for a derby game. No more divisive and futile hatred of venerable clubs like Crystal Palace (even though they are rubbish) or Portsmouth (even though they stink). Crawley are ideally placed and ideally hateful to fill the breach. It would even allow us to come up with exciting new chants, such as "you're just a village in Horsham" (it still needs work).
I should be pleased, but I'm not. I'd be all in favour of Brighton having a local Football League rival for the first time. It's long overdue. But it's not something I want to come about simply because of a highest bidder. I suppose this is a very snobbish attitude to have, one out of step with the modern day realities of the professional game. But having to justify our league stature because someone else bought theirs? No thanks.