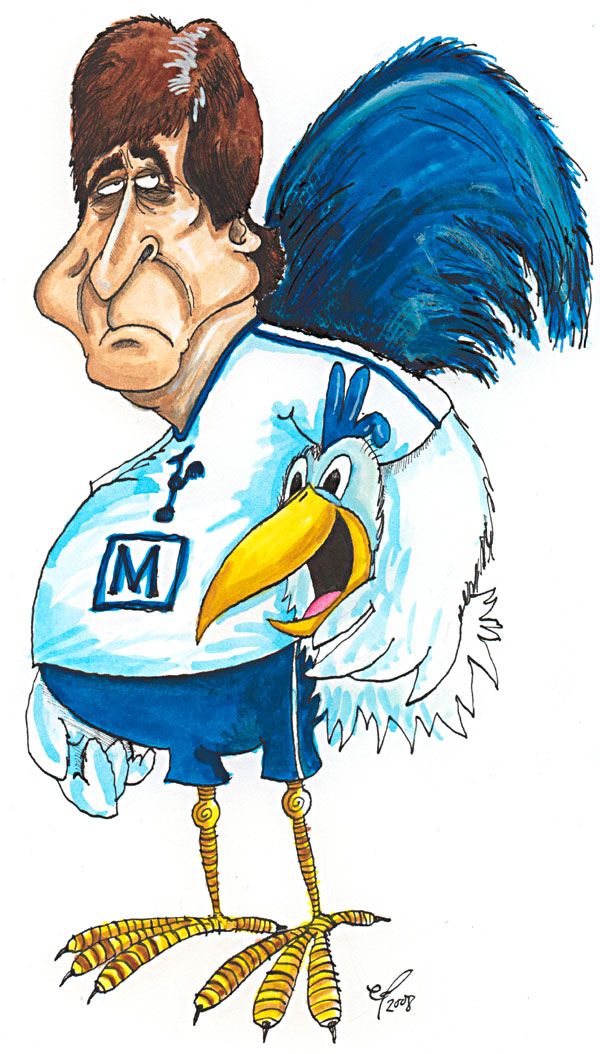 Ten years.  It will be eleven come next April and May when the season reaches its business end.  That is how long ago it was that all three clubs promoted to the Premier League the preceding season were relegated straight back down to the Football League.  1997/1998's victims were Bolton, Barnsley and Crystal Palace.  But since their demise, almost every subsequent season has seen a team who could have confidently thought of themselves as Established At The Top Level disabused of the notion.  In 1999 it was Blackburn, spat out by the league they had won just four years previously after a 7-year stay.  2000's victims could not point to Rovers' success, but Sheffield Wednesday (8 years) and Wimbledon (14) were both fairly ubiquitous sights on Match of the Day.  Coventry City followed in 2001 after thirty-four seasons, with Leeds United (14) and Southampton (27) joining them in 2004 and 2005 respectively.  Indeed, 2001/2002 was notable for the fact that none of the promoted sides (Fulham, Blackburn and Bolton) felt the need to be excused – Ipswich Town feeling the pinch of UEFA Cup involvement and succumbing to second-season syndrome and Derby County and Leicester departing after 6 years apiece.
It's not a particularly brave statement to make, but it does benefit from being true – unless you are Manchester United, Chelsea, Liverpool or Arsenal, you're really not guaranteed a place in the top flight next season until mathematics decrees it.  Even our beloved Big Four's positions are parlous ones, with rafts of takeover talk (Liverpool, Arsenal), the credit crunch's affect on sponsors (Manchester United), worries about managerial direction once talismanic gaffers stand aside (Arsenal, Manchester United) or what-the-hell-are-we-going-to-do-now-Abramovich-got-bored-help-us-for-the-love-of-god-we're-a-national-treasure (Chelsea) always lurking on the horizon.  For all the rest, recently promoted or a top flight fixture since the days of Methuselah, one bad season, an unfortunate injury or an insane manager can cost very, very dear.
And so to our current gibbering wrecks.  I think you'd have to be from Scunthorpe or Grimsby now to honestly believe that Hull City will get relegated come next May, so that's one of last year's promoted clubs out of contention.  That leaves us with Stoke City and West Brom.  The Baggies are currently in a comfortable 10th place, although they'll probably have to look to improve on their away record of a single goal in four games.  Nevertheless, they have still gained 4 points on their travels.  With 10 in total, they are, after eight games scoring at a rate of 1.25 points per game, easily enough to guarantee safety.  Stoke are less well-placed.  Their away form again is the problem, with no wins in four.  Scoring at 0.875 points per game won't be enough, mathematics suggests.  What mathematics never got to grips with, however, is just how to express the difficulty Premier League coaches are having coming to terms with Stoke's direct style of play.  Big Phil Scolari actually exhumed Pythagoras before Chelsea visited the Britannia Stadium last month, so as to try to tutor his side to counteract the effects of Rory Delap's long throw-ins.  A good run of games, coupled with a wet and windy winter, could yet see Stoke cement themselves a comfortable lower-mid table finish.
In the last 10 seasons, the average number of points needed to guarantee retaining top table status is 36.5.  The lowest it has been in that time is 34 (99/00, 03/04, 04/05), the highest 43 (2002/2003).  Last season it was an average-tastic 37.  It's hard to see Spurs or Newcastle attaining that total, even if they were allowed to start their tally from the beginning of the calendar year rather than the football season.  But, again, numbers are a small part of the story.  Newcastle are still a team in a state of exquisite chaos off the playing field, and on it their team look threadbare.  Their survival is probably going to depend on the team sale talks being resolved in time for a big injection of transfer funds in January.  Tottenham, meanwhile, are starting to steal some of Newcastle's thunder as the division's major train wreck.  On Saturday's football focus, Martin Keown was asked to discuss – from the point of view of his experience of the arrival of Arsene Wenger at Arsenal – the story in The Sun of a "senior" player complaining that, under Ramos' dietary plans, the players felt hungry as they were going out to play.  Keown's response was simple: you don't notice if you are winning.  The longer Spurs' barren streak continues, the less and less sensible Ramos' ideas will seem and the less and less tenable his role will become, in other words.  In contrast, Fabio Capello could happily take the England squad ballet dancing in pink tutus at the moment, and not one single player would even think about questioning his methods.
And there's the crux of the matter.  People can point to the transfer window, or Newcastle's injury problems, or Tottenham's increasingly bizarre-looking strategy of selling all their best centre-forwards.  In the end, it all boils down to confidence.  The players at Hull City, some of whom have now represented the club at all four levels of the 92-team football league, are no better than any of anyone elses.  They do, however, all have total faith in Phil Brown's judgement, and it shows.  Eventually, their bubble will burst and they'll begin to question things they'd just accepted as fact before.  By this time, however, they're likely to have accrued 40 points, allowing them the option to just freewheel to the line.  On the evidence so far, it's hard to see how Ramos can get his players believing in him in the same way in time to save his job, or save Spurs from their first demotion in 31 years.