They may well be the great hope of many for this tournament, but there were times during their opening match against Algeria looked as if they might not be able to live up to the hype that has preceded them. Still, they got three points from their opening match and a win this evening against a Russian team that looked similarly pedestrian in drawing against South Korea in their opening match will at least get them through to the Second Round of the competition. The Russian coach Fabio Capello, meanwhile, is under pressure. A draw in his opening match of the tournament led to considerable criticism, and a win this evening could be critical for the nation that is due to be hosting the next tournament in four years time. Terry Duffelen is here for you.
You can follow Twohundredpercent on Twitter by clicking here.
FULL TIME! Belgium have won and are through to the second round. Let's hope we see a little more from them later in the tournament. I am out of here.
Three minutes injury time and this fright-mare is almost over. Hazard tees up Mirallas but his shot is tame. Hazard's intervention has been telling towards the end of the game.
Hazard pegs it to the byline and cuts it back for Origi who is alone in the box and slots the ball passed the 'keeper.
A GOAL! Divock Origi. Belgium 1-0!
Lovely turn by Hazard who shoots just over the bar. His shot was deflected for a corner which comes to nothing.
And Mirallas hits the post from a free kick, and Hazard goes on a run. After 80 minutes settling for a result, one side is now going for it. This could be the opposite of West Germany-Austria from 1982.
A POST HAS BEEN HIT. I REPEAT, A POST HAS BEEN HIT.
Shatov has been shat and is now off. Dzagoev on.
Eshchen with a long range shot and the post gave the ball a withering look as it flew past. "You don't call, you don't write."
78 minutes gone and to quote Krusty The Clown: "This sketch goes on for another 12 minutes."
Dries Mertens is off to be replaced by Mirallas. Mertens has done very little the in second half. He is not alone in that regard.
OK so it's likely that Belgium are happy to take whatever scraps are available or settle for a point. Russia? I assume they're happy to do the same. So I guess we have to wait for something magnificently cool or a spectacularly awful to happen before we see a goal.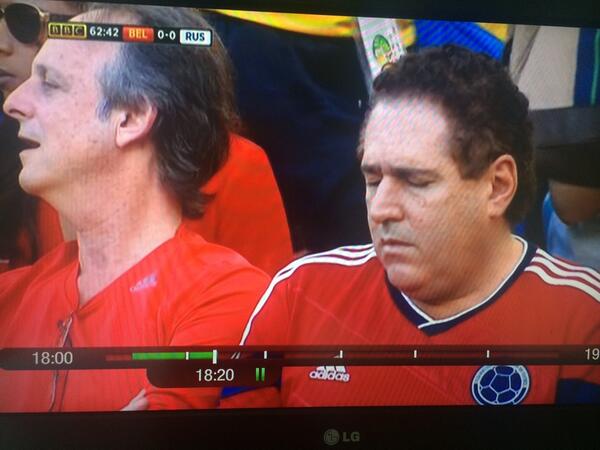 The director has found a close up of a drowsy fan. He may find the game dull I suppose. Alternatively, he could have been out late last night.
Some goal mouth again at last. Russia with an overhead miss-kick followed by a fat break from de-Bruyne. His ball to Hazard is too late though and the move breaks down with a rather unconvincing penalty appeal.
Jonathan Pearce is talking about the relative market value of the Belgian squad by comparison to other top nations. Presumably he's struggling for narratives as well.
Well I've chosen to shuffle my Jerry Goldsmith collection for the second half as I need something of a pick me up. I have little interest in the progress of either team and they are not really doing enough to engage the neutral right now.
Russia do have a corner though.
Half Time and the first forty five minutes has flown by. Either that or I dropped off for a few minutes.
Half time, and its BEL00RUS
Good gravy! Kokorin with a free header wide.
Pretty measured first half so far. No panicking or harum-scarum from either side which makes a change from the bonkers football of last night.
Mertens is being well served on the left. It's surely only a matter of time.
Good afternoon to you Ian. I'm tempted to do the same.
Mertens with another shot which goes wide. Either Russia know he's going to be wayward all afternoon or someone's not picking him up,
Dries Mertens has a run at the Russian defence, but bends his shot the wrong side of the post.
A Mexican wave is going around, despite the game not being that bad.
Fellaini is playing like a man who knows his place is secure. His performance in this World Cup helps us understand to what extent things had gone wrong at Man United,
The level of tactical analysis isn't great, and they sound like they haven't got a clue what they're doing, but at least Pearce and Keown are in HD, Hacker the Dog only gets SD.
If you have access to BBCs red button, you can replace Jonathan Pearce and Martin Keown with the CBBC team starring Hacker the Dog.
She's so caring that Rihanna.
Hello. Rihanna just phoned me and told me that Terry needed a hand.
Ooooh! de Bruyne with a lung busting run find Mertens on the wing in acres of space. He looks for Lukaku but the ball is nipped off his toes. Nice move from Belgium.
Russia busting some moves and Shatov draws a save from Courtois.
Noted football tweeter Rihanna had agreed to join me for this game but it looks like she's had to bail. That's showbiz I guess.
So eight minutes have passed that the two teams are playing like they're waiting for everyone to take their seats.
Dries Mertens with a half chance early doors. This is likely to be a Belgium heavy game as from what I can make out the Russians prefer to work on the break.
Hello, good afternoon. Apologies for the truncated introduction. It is Sunday and Sundays can be lazy.