Morris Woodman's Tactical Chalkboard: Celtic
Morris Woodman is England's most successful football manager.  In 13 seasons in the crucible of the Zambian top flight, his team Spartak Thunderbolts are yet to lose a single game.  During last summer's World Cup, Twohundredpercent's own Mungo McCrackas met up with Woodman and asked him if he would be willing to provide weekly tactical analysis of the British game for our site.  He said yes.  Specifically, he said he would do it for a large sum of money which we are far too professional to disclose the full details of.
Since which time, we've all had to stop eating, wearing clothes or living indoors.  But it has possibly been worth it, and we can now present the first of Morris Woodman's tactical chalkboards.  This week: he looks at how Celtic can bounce back from their midweek European disappointment.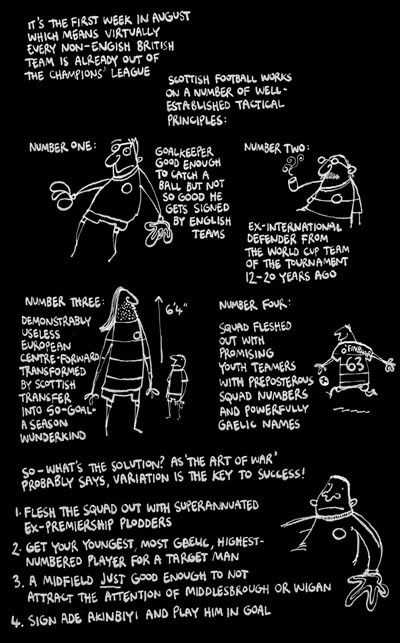 Click picture for full size